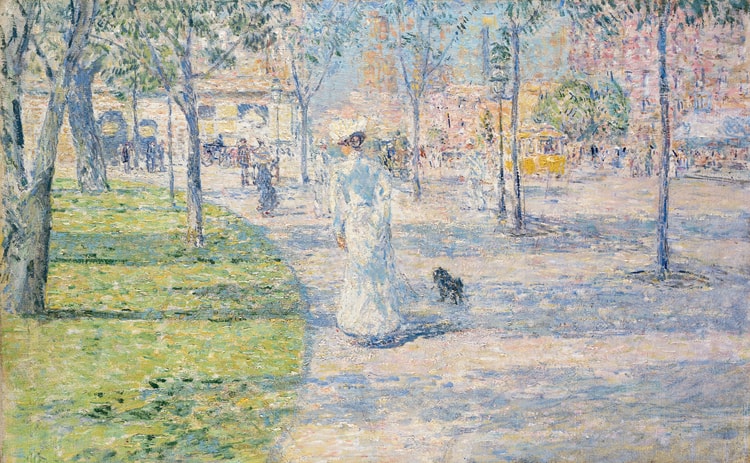 QUESTION:
Considered the pioneer of American Impressionism, this artist painted works of New York City street scenes that earned him the reputation as "our street painter par excellence" around the turn of the 19th century. Considered the pioneer of American Impressionism, he was born in Dorchester, Massachusetts, and after studying in France from 1886 to 1889, where he was greatly attracted to the works of the French Impressionists, he established his studio on Fifth Avenue in New York.
He was unusual among his contemporaries for his frequent depictions of urban scenes, but he also spent long periods of time in New England rural locations popular with artists, including Provincetown, Gloucester, and the Isles of Shoals in Maine, where he painted atmospheric scenes of history and nostalgia.
ANSWER:  Childe Hassam
Childe Hassam's studio at Fifth Avenue was close to Union Square, and he painted numerous views of the square in all seasons. He had painted Union Square in Spring in 1896 (a painting in the collection of Smith College Museum of Art), a view from a high vantage point; however, the Farnsworth painting, completed four years later, is a close-up view at pedestrian level. Here, a fashionable young woman walks her dog in an uncrowded parklike corner of the square, while in the distance other well-dressed figures leisurely stroll. Hassam avoided, as did other artists during this period, showing the actual realities of the street but rather only the best aspects of city life.
« Previous Post | Artist Trivia: Will Barnet
Yvonne Jaquette: Rockport Harbor | Next Post »