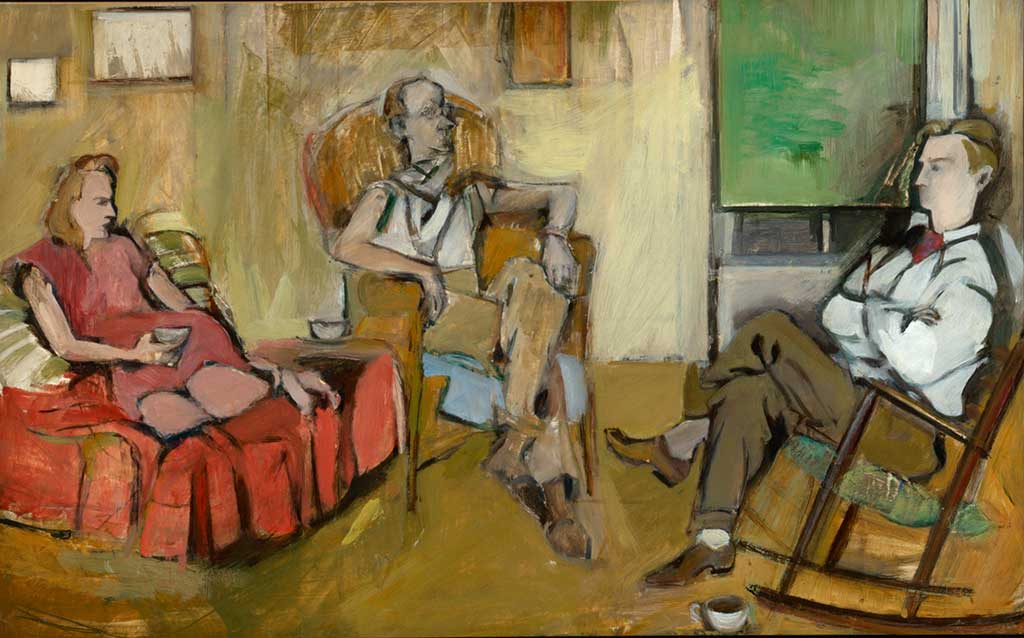 QUESTION:
Considered by some the voice of Abstract Expressionism, this artist was an articulate defender of the movement. She wrote numerous insightful pieces about her fellow artists. As a critic for ARTnews, she reviewed the work of Arshile Gorky, Franz Kline, David Smith, Mark Rothko, Jackson Pollock, and Josef Albers, among others. In numerous series of her works, she brought the expressive gesture of Abstract Expressionism to bear on figurative subjects. She is perhaps best known for her portrait of John F. Kennedy, commissioned by the Truman Library. The president sat for her several times, and she created hundreds of sketches and at least two dozen canvases as she attempted to capture his character and energy. She taught at a prominent university and art school, among other institutions.
ANSWER: Elaine De Kooning
Born Elaine Fried on March 12, 1918 in New York City, Elaine De Kooning developed her interest in art through museum trips, art books, and drawing opportunities provided by her mother. While studying painting in New York, the artist met and later married the painter Willem de Kooning, 16 years her elder and a first-generation Abstract Expressionist. Within her own art, her interest in figuration is seen in numerous series—"bullfights," "basketball players," and "Bacchus." Throughout her life, de Kooning taught at numerous colleges including Yale University and the Parsons New School for Design. In addition to the Farnsworth, her paintings are included in the collections of major American museums, such as the Guggenheim Museum and The Museum of Modern Art.
In the painting above are portrayed de Kooning's husband, Willem de Kooning (in the rocking chair at the far right), Janice Biala, and Joop Sanders seated in the couple's New York apartment. Biala was a Polish-born painter known for her intimate portraits of friends in France and the United States. Sanders was from Amsterdam and became one of the youngest members of the New York School.
Elaine de Kooning, The Living Room, 1948, Oil on paper laid down on canvas, 24 x 36 inches. 1948, Gift of the Alex Katz Foundation, 2011.4
Featured in "Maine and American Art: Farnsworth Art Museum" with thanks to the Henry Luce Foundation and Wyeth Foundation for American Art.
« Previous Post | Artist Trivia: Lillian Wescott Hale
Emily Muir: Stonington | Next Post »