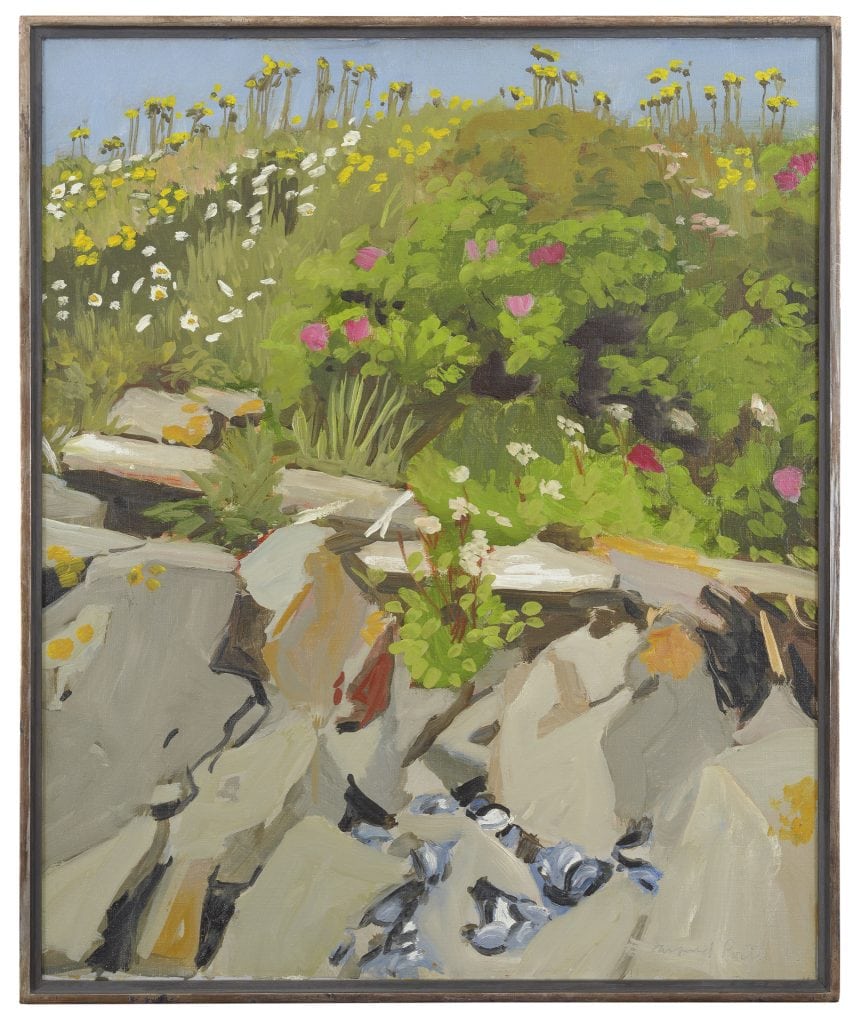 Art Trivia: Who is this artist?
This artist who had a life-long relationship with Maine was born with the Sun in Gemini on the 10th day of the month! They were one of five children. One sibling is also involved with the arts becoming a well known photographer. This artist also had a son who is a well-known sculptor and teacher
Majoring in fine arts at a prestigious university, they continued studies at this New York art school which was on the cutting edge of the times. While there they were inclined and influenced to create works of social relevance in a realist style–maintaining that style throughout their career in the face of the popular painting movement promoted during the mid 1950s.
They were inspired by the French Post-Impressionist painters, Pierre Bonnard and Edouard Vuillard, and the fascination those earlier artists had with nature and everyday life.
In addition to painting, this artist was also an art critic contributing to major art and national publications. Their work is widely revered and held in the collections of many prominent national galleries. They died in 1975.
Answer: Fairfield Porter
Born on June 10, Fairfield Porter was an American painter and art critic. He was the fourth of five children of James Porter, an architect, and Ruth Furness Porter, a poet from a literary family. He was the brother of photographer Eliot Porter and the brother-in-law of federal Reclamation Commissioner Michael W. Straus.
While a student at Harvard, Porter majored in fine arts; he continued his studies at the Art Students' League when he moved to New York City in 1928. His studies at the Art Students' League predisposed him to produce socially relevant art and, although the subjects would change, he continued to produce realist work for the rest of his career. He would be criticized and revered for continuing his representational style in the midst of the Abstract Expressionist movement.
His painterly vision, which encompassed a fascination with nature and the ability to reveal extraordinariness in ordinary life, was heavily indebted to the French painters Pierre Bonnard and Édouard Vuillard. John Ashbery wrote of him: "Characteristically, [Porter] tended to prefer the late woolly Vuillards to the early ones everyone likes."
Porter said once, "When I paint, I think that what would satisfy me is to express what Bonnard said Renoir told him: 'make everything more beautiful.'' Porter was a critic as well as an artist, and regularly contributed reviews to art magazines as well essays to The Nation. He died on September 17, 1975, in Southampton, NY. Today, in addition to the Farnsworth Art Museum, the artist's works are held in the collections of the Metropolitan Museum of Art in New York, the National Gallery of Art in Washington, D.C., and the Hammer Museum in Los Angeles, among others.
Fairfield Porter, Beach Flowers #2, 1972, Oil on canvas, 24 1/4 x 20 1/8 x 1 1/4 inches, Bequest of Mrs. Elizabeth B. Noyce, 1997.3.42
« Previous Post | Artist Trivia: Joyce Tenneson
Artist Trivia: Rockwell Kent | Next Post »