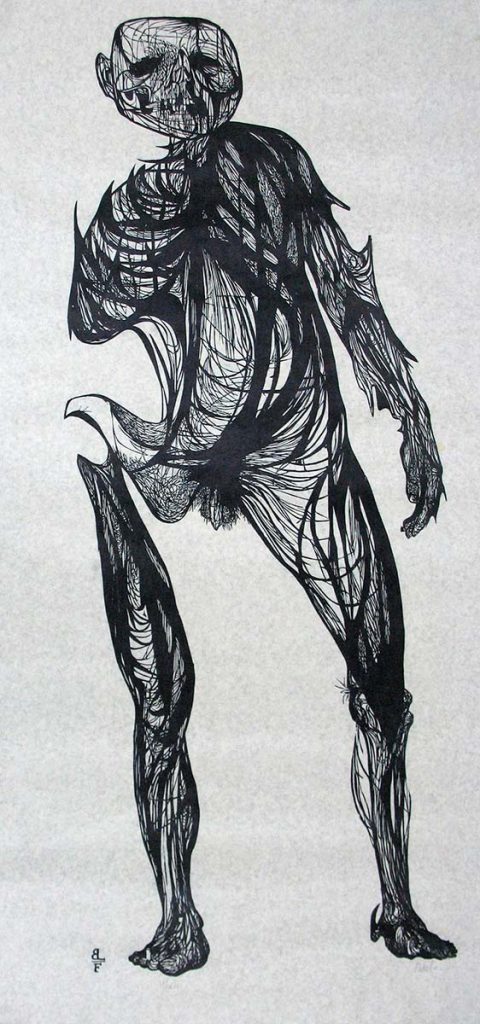 Who is this artist?
The artist's family moved from New Jersey to Brooklyn in 1929 where the artist's father accepted a post as a Rabbi. Attending Yeshiva school during the day, at the age of fourteen, the artist began attending night school at Educational Alliance in Manhattan's lower east side. Working as a sculptor, and learning at first from Maurice Glickman, the artist went on to attend New York University's School of Architecture and Allied Arts before winning a scholarship to Yale in 1941, along the way becoming an avid reader and book collector.
After a stint in the military and upon returning from studying monumental works of art in Europe, this artist became an instructor in printmaking at the Worcester Art Museum, later teaching for many years at Smith College, and at nearby Hampshire College in western Massachusetts. The artist had a summer home in Deer Isle for a time, and for a decade lived in England, becoming a good friend of poet Ted Hughes. The artist produced sculpture, prints, drawings, as well as fine books through their own Gehenna Press.
We celebrate the centennial of this artist on August 15, 2022.
Who is Leonard Baskin?
Leonard Baskin grew up in New York City and had his first exhibition at sculptor Maurice Glickman's studio at the age of 17. Baskin was an expert draftsman and his drawings are full of energy and sure strokes, often meticulously layered with lyrical detail. He once described his own work as '". . . my drawn figures are girdled in a continuous silhouette within which form-building and form-destroying lines and blots and dots and smudges and flecks and dashes and fillips and specks and splashes disport, granting meaning and reality to the drawing: or so I profoundly hope."
Much of his art is intertwined with literature. His Gehenna Press published works by poets and writers both contemporary and ancient. Baskin stated in 1963, '"Collecting books and drawings is the only activity I know of that involves every one of the seven deadly sins, even sloth."

He was a humanitarian, and the recipient of numerous honors and awards including the Special Medal of Merit of the American Institute of Graphic Arts in 1965, the Gold Medal of the National Academy of Arts and Letters in1969, and the Gold Medal of the National Academy of Design. Among his public works are the Holocaust Memorial sculpture on the site of the First Jewish Cemetery in Ann Arbor, Michigan and a bas relief of Franklin D. Roosevelt's 1945 funeral procession. His artwork can be found in the collections of major museums and at the Farnsworth.
The exhibition, Leonard Baskin: I Hold the Cracked Mirror Up to Man is on view at the museum until January 15, 2023. 
« Previous Post | Chemicals, Knowledge, Crazy Things: A Conversation with Kel Differ
Meet the Team: Mimi Zwick | Next Post »