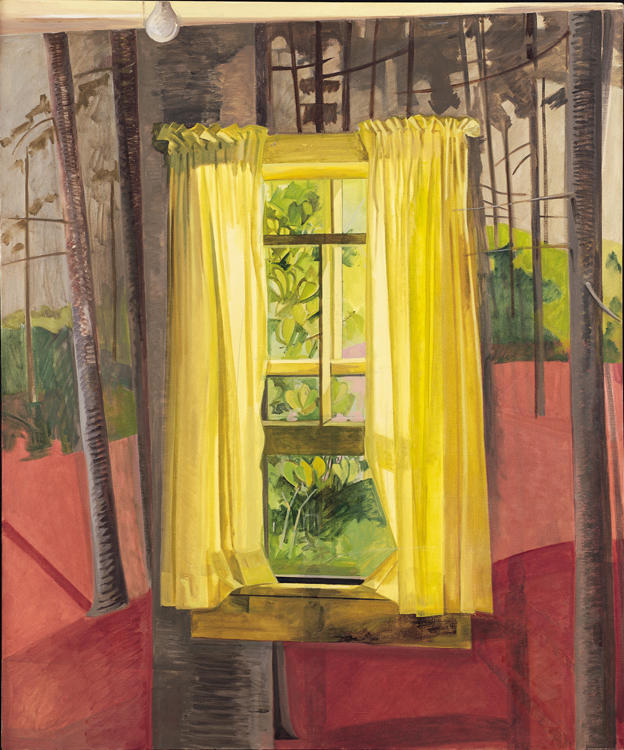 QUESTION:
For over 50 years, this artist has painted her immediate, everyday surroundings. Her subjects include rambling New England out buildings, lush summer gardens, nocturnal moonlight skies, and views through interior windows. Windows are among this artist's most often recurring subjects. She began painting them in the late 1960s when she moved her summer home from inland Maine to the coast. Although she does not invent what is not there, many of her works often exploit the ambiguity present in her subjects. 
ANSWER: Lois Dodd
In The Painted Room, a painting done by Lois Dodd in 1982, we are viewing a wall in Dodd's Cushing, Maine, farmhouse on which she has painted a scene from the woods across the road. In the middle of this wall is a window, framed in brilliant yellow curtains. Along the upper left edge is a light bulb suspended from a narrow sliver of ceiling. Dodd provides us with this small visual clue so as not to deceive us about what we are viewing.
Dodd is an elected member of the American Academy of Arts and Letters and the National Academy. In 1992 she retired from teaching at Brooklyn College. Since 1954 her work has been the subject of over fifty one-person exhibitions.
IMAGE: The Painted Room, 1982, oil on linen (see this painting on view at the Farnsworth in the James gallery)
View more works by Dodd in the Farnsworth's collection.
« Previous Post | Andy Warhol, Portrait of James Wyeth
Dahlov Ipcar: Jungle Pool | Next Post »