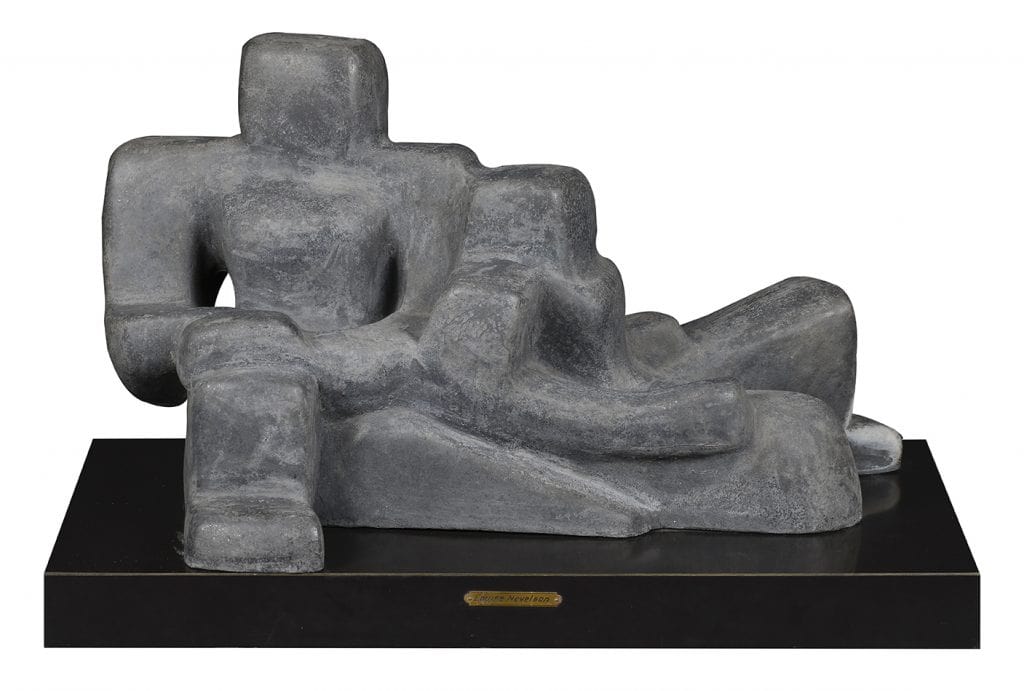 Who is this artist?
This artist was born near Kiev in what is now Ukraine, in 1899. They moved to Rockland, Maine in 1905 with their family. In high school, they were the captain of the girls' basketball team. They moved to New York City in 1920 and began studying painting at the Arts Student League, in addition to voice and acting. In 1931, they traveled to Munich to study with the important painter and teacher, Hans Hoffman, before ultimately returning to New York. This artist said, 'I could be a leaf on a tree in Paris, but I could be the whole tree in America.' At the age of 60, this artist finally achieved international recognition when they were included in the exhibition, Sixteen Americans, at the Museum of Modern Art in 1959. Their unique process in creating sculpture transformed everyday materials into compositions that transcended space and altered viewers' perception of art. We celebrate this dynamic artist on their birthday, September 23.
Who is Louise Nevelson?
Louise Nevelson immigrated to Rockland, Maine in 1905 from Tsarist Russia. In 1920, she married Charles Nevelson and moved to New York City. The couple's son Mike was born in 1922. After studying with Hans Hoffman in Europe, she traveled to Guatemala and Mexico and was influenced by Pre-Columbian art. In the mid 1950s, she began producing a series of found wood sculptures, which she painted black. She intentionally selected wooden objects that individually had an intimate scale, yet became monumental when combined into an assemblage. Her unique process and compositions explored relational possibilities of sculpture and spaces. She broke the taboo at the time that only men could work in large scale, and was inspirational to many younger artists. After struggling for decades, she received international acclaim late in her career and represented the United States at the Venice Biennale in 1962. A major retrospective of her art was held at the Whitney Museum of American Art in New York City, in 1967. Louise was a style icon. She once said, 'Life isn't one straight line. Most of us have to be transplanted, like a tree, before we blossom'.  
We celebrate Louise Nevelson on September 23, on what would have been her 123rd  birthday, with the reopening of the sixth floor Nevelson/Berliawsky Gallery and the exhibition Louise Nevelson: Dawn to Dusk, selected from the museum's extensive collection of her work.
« Previous Post | Meet the Team: Eddie Dechaine
Meet the Team: Marlene Kehler | Next Post »