Take a moment to consider George Bellows' painting The Teamster. Each brush stroke is intentional. Each simultaneously conveys movement and light.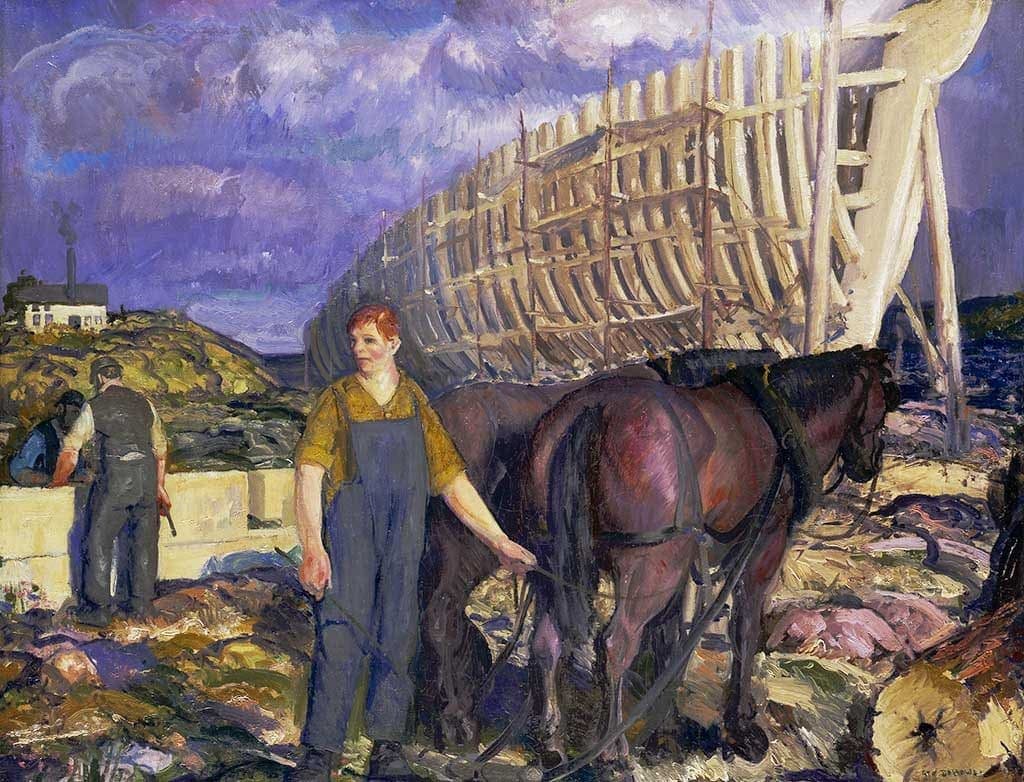 Via the brush strokes, I am transported to the boatyard: I hear Penobscot Bay lapping against the weathered wood docks; I see tall spires of masts against the deep blue Maine sky; I feel the sharp salty air on my face; and I smell bananas. 
I was a chef onboard sailing yachts for many years; there was always a surplus of bananas. Because they are cheap and readily available in the Caribbean this versatile yellow fruit features in many recipes…also because they get ripe fast and need to be used.
I can't help it. Boating makes me think of bananas. 
Why you ask? Well there was a day, years ago, when the yacht I worked on was sailing near Antigua. The usual basket full of aromatic bananas was in the galley. We raced hard and close to the wind then took a sudden exciting gust of air and tacked both dramatically and drastically. As the guests enjoyed the race, the adventure, and the anticipation of winning, I was down in the galley, tasked with extricating mashed banana from every crevice of the vintage cabinetry.
I remain scarred by the experience.
Other than the way they stick to woodwork, bananas are the perfect fruit. They are sweet, rich in vitamins (B6 and C), and loaded with minerals (potassium and magnesium).
Plus, bananas come with nature's proprietary easy-open wrapper that even includes a handle! 
Most of us keep bananas around for exactly these reasons. But can someone explain to me why some weeks the bowl empties immediately and other weeks no one eats them???
Got bananas?
Enjoy this EASY way to use up an entire bowl full of bananas. Double or triple the recipe. It keeps well and is amazing over waffles, pancakes, and French toast.
Easy Bananas Foster Sauce
INGREDIENTS
4 Tablespoons butter
½ cup brown sugar
Pinch nutmeg
4 slightly under-ripe bananas
⅓ cup dark rum (but this is a pandemic…feel free to add more)
1 teaspoon vanilla
Vanilla ice cream
TOOLS
These basic kitchen tools are good multipurpose items that you will use many times.
Heavy skillet, like cast iron—this helps hold the heat
Measuring cups and spoons
PREPARATION
This recipe takes 5 minutes of active time—really, that's it.
Prepare your bananas by peeling and slicing in ½" thick slices. If you cut at an angle across the banana, you will create long oval slices that will give more surface area for your fantastic syrup. Set these aside.
Melt the butter in a 10-inch heavy skillet over low heat.
Add the brown sugar and pinch of nutmeg to the melting butter and stir the mixture until sugar dissolves.
Add 2 T rum and the vanilla to the pan and bring sauce to a bubble.
Now, add the banana slices and cook them for 1 minute or so on each side. As they cook, spoon the butter and sugar sauce over them.
Gently lift the banana slices from your syrup to a dish where they will rest while you finish the sauce.
Bring sauce to a bubble, if it is not already. Turn off the heat.
When the heat is off, add the rum. WARNING: If your sauce is crazy hot, the alcohol will light and flame up on its own, so be prepared for this. Otherwise, use a lighter to ignite the rum and continue cooking until flame dies out. This will not be long—max 1 minute.
WOOT! Let the eating commence!
Serve dishes of vanilla ice cream. Spoon warm banana slices on top and ladle this delicious sauce over the bananas.
Share with your favorite people.
NOTE
You will acquire rockstar status if you serve Bananas Foster Sauce at breakfast over pancakes, French toast, or waffles, even if you use freezer waffles. My favorite, however, is the way I have shared here: over ice cream. Especially if the ice cream is within a Maple Almond Lace Cookie bowl. I mean, seriously—what is better than an edible dish? Stay tuned for this cookie recipe next Friday!
Katherine White is the Farnsworth's Special Events Manager and is responsible for the art museum's widely acclaimed events, such as the Summer Gala. With more than 25 years of experience as a yacht chef, caterer, and designer, her favorite pairing is unfussy food with beloved people, and making memorable meals with what she already has. Enjoy this recipe, inspired by the Farnsworth collection.
« Previous Post | How to Make Egg Tempera
Behind the Scenes | Next Post »