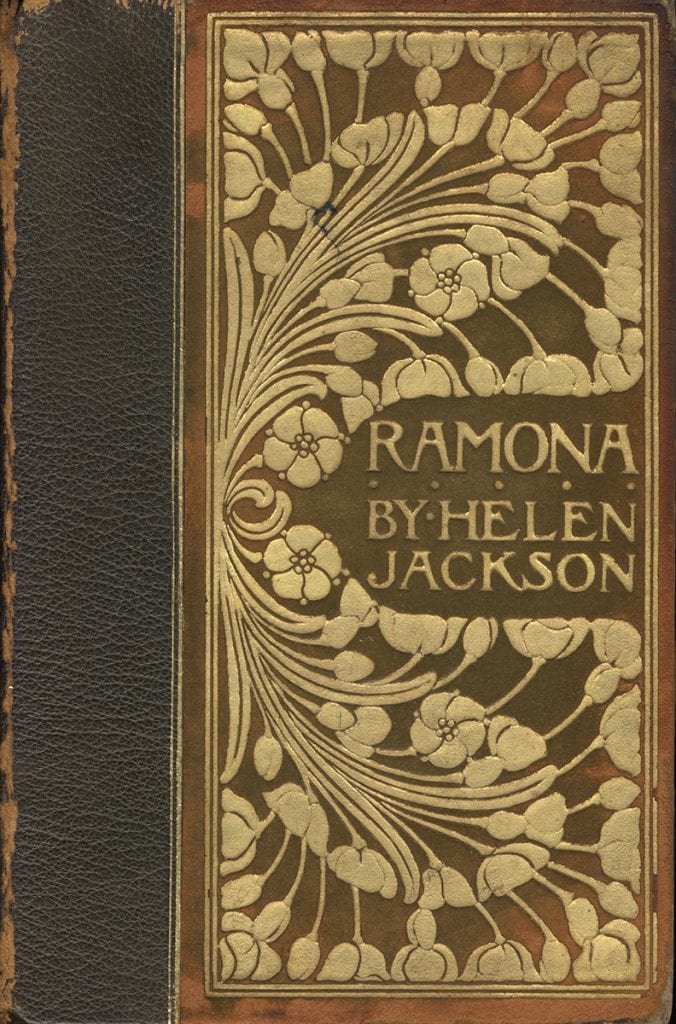 Behind the Scenes offers musings from the Farnsworth's curatorial staff on art, artists, museums, and the broader cultural world of which the Farnsworth is a part.
Michael K. Komanecky, Chief Curator
The story may sound familiar. An experienced and successful author raised in New England writes a novel that takes the country by storm, selling numbers of books requiring one printing after another. Reporters cannot seem to stop writing articles about the book, and it is soon made into a movie with a major Hollywood star. What's more, readers all over the USA and even abroad are so taken with the story that they seek out the sites where the novel's events take place. Special tours are arranged to visit these places, with guides expounding on the sites' histories and how they relate to the book. So many tourists flock to them that the sites' owners are sometimes overwhelmed and restrict access. Controversies arise over what is fact and what is fiction, generating still more articles and books portending to set things straight. 
While today's readers of popular fiction will probably recognize Dan Brown's 2003 novel The Da Vinci Code as fitting this description, few if any would think of the book written more than a century earlier that generated a similar and, truth be told, far bigger response. That book, a two-volume 1900 edition of the 1884 novel, Ramona: A Story, is one of the many striking works in our current exhibition, Transforming the Ordinary:  Women in American Book Cover Design. Its cover displays a sinuous Art Nouveau-inspired floral design stamped in gold on dark brown leather.
It is a stunning example of innovative book cover design from the period, in this case done by Amy Sacker (1872/73-1965). Sacker was a talented Boston-born designer who trained at the School of the Museum of Fine Arts in Boston and then taught bookbinding, book illustration, and cover design at the Cowles School of Design. She worked for several publishers, including Houghton Mifflin and Little, Brown, and Company, and it was Little, Brown who published not just one but two 1900 editions of Ramona in 1900. The one in our show is called the "Monterey DeLuxe," and the other the less luxurious "Monterey" edition. 
We know from a 1900 magazine ad that the latter had "cloth wrappers," was in a "cloth box," and sold for six dollars. The DeLuxe edition, which cost twelve dollars, was limited to 500 numbered copies and had a brown, green, or dark red leather cover with the gilded floral design. What distinguished both editions is that each contained forty-nine illustrations reproduced from drawings by Montreal-born Henry Sandham (1842-1910), who began his career in Toronto before moving to Boston in 1882.
The question that comes to mind is why would a publisher offer two different luxury editions of the same book at the same time? They must have been confident that there was a market that would justify the expense in having them designed and printed. The reason Little, Brown forged ahead has to do with the novel itself, whose story is one of the most celebrated phenomenon of late-nineteenth and early twentieth-century American literature. 
Its author was Helen Hunt Jackson (1830-1885), born Helen Fiske in Amherst, Massachusetts to a well-educated and financially well-off family. She attended a boarding school in New York City where one of her classmates was the poet Emily Dickinson, with whom she enjoyed a lifelong friendship. In 1852 Fiske married US Army Captain Edward Hunt, but in little more than a decade, he and their two children were dead. In 1866, no longer bound by family obligations or social conventions, Helen Hunt embarked on what became a successful literary career as a poet, travel writer, and novelist. While visiting Colorado Springs in the winter of 1873-74 she met William Jackson, a wealthy banker and railroad investor, and married him, taking the name Helen Hunt Jackson. 
Not long after, Century magazine invited Jackson to go to California to familiarize herself with the condition of California's Indians in order to write a series of articles. She accepted and they published her four articles in 1883, their scope spanning California's history from the arrival of Franciscan missionaries sent by the Spanish crown in the late eighteenth century to the present, focusing especially on the often tragic condition of the so-called mission Indians. 
It was Jackson's move out west that transformed her life and led to Ramona. There she became increasingly familiar with government treatment of Native Americans in Colorado and elsewhere in the west, and some of her letters critical of state and federal policies toward them were published. In 1881 Jackson wrote A Century of Dishonor: A Sketch of the United States Government's Dealings with Some of the Indian Tribes, revealing among other things the many treaties broken by government officials over nearly a century. Now an activist, she sent a copy of her book to every member of Congress, with little if any effect on Indian policies.
Her visits to the many Native American villages once associated with the missions led Jackson again to seek changes in federal policy, this time through her Report on the Condition and Needs of the Mission Indians of California, published by the US Government Printing Office in 1884. 
By fall of 1883, an idea to write a novel based on her experiences began to take shape in Jackson's mind. Its purpose was clear: to use fiction as a means to promote Indian causes, inspired in part by Harriet Beecher Stowe's Uncle Tom's Cabin and Henry Wadsworth Longfellow's poem "Evangeline," both of which suggested to her how powerful the written word could be in voicing protest on behalf of the dispossessed. Thus she set out to write what she called her "Indian story."
The actual writing of Ramona is a story in itself. Jackson reported that the entire story came to her one October morning "in less than five minutes, as if someone spoke it" and that in the next few days it became "more and more vivid." In November she went to New York, took a room in the Berkeley Hotel, and over a period of three months wrote the entire book, sometimes as much as three thousand words a day. First published as a series of articles in The Christian Union magazine, the book was released by the Boston publisher Roberts Brothers in November 1884.
Simply put, the novel told the story of the tragic love affair between its heroine, Ramona, an orphan born to a Scottish father and Indian mother, and Alessandro, the son of a Luiseño Indian chief at Mission San Luis Rey.  Their lives together as husband and wife were constantly subjected to the prejudices against Indians common among Californians, both American and Latino, ending tragically with Alessandro's murder.   
Though Jackson's novel, sentimental by today's standards, never had the impact she sought insofar as it affected American policies toward Native Americans in California or anywhere else, its actual impact was far beyond anything imagined by its author. Within three months of its release it sold seven thousand copies, and by the time of Jackson's death in 1885, more than fifteen thousand were sold. It was reprinted over and over, and not just in the USA: a German edition appeared in 1885, a French one in 1887, and Spanish editions in 1888, 1900, and 1915. Between 1884 and 1939 alone twenty-one editions were published. This love affair with Ramona: A Story has continued with twentieth-century printings, the total now numbering more than three hundred since it first appeared in 1884. 
Ramona's grip on the pubic was not limited, however, to these nearly constant reprintings of the book. Almost immediately after its initial release, there arose a seemingly irrepressible fascination on the part of the public for discovering the "real" characters and places in California where the story was set. Reporters interviewed people Jackson allegedly met while in California in efforts to identify who inspired her characters. Articles and books began to appear describing the places that Jackson relied on for the novel's setting, some including photographs of them.
In addition, between 1887 and 1905 three plays based on the novel were written. Ramona's stage potential was eventually seized by the dramatist and stage producer Garnet Holme, who adapted to the novel what has become one of the longest-running outdoor dramatic presentations in the country. 
First presented in 1923 in a natural amphitheater outside the rural San Jacinto County village of Hemet, California, the Ramona Pageant has been held there annually nearly every year since. Though many roles were played by local people, the performance also provided opportunities for aspiring young actors, among them Victor Jory in 1932 as Alessandro, and in 1959 Ramona was played by Raquel Tejada, better known by her later stage name, Raquel Welch. 
In the early decades of the twentieth century the still-young movie industry also sought to capitalize on the novel's popularity.  In 1910 the young David Wark Griffith–who as an actor played the role of Alessandro in the 1905 stage production of Ramona–directed a film version of the novel starring seventeen-year-old Mary Pickford as Ramona.
D.W. Griffith, as he became known, shot some of the silent movie at the California sites that were thought to have inspired Jackson, and he cited them in the film's credits, the first such location credit in American film. A second film version appeared in 1928 with Ramona played by Dolores del Rio, who sang the title song written especially for the film.
In 1936 Twentieth Century Fox released a version, its first all-Technicolor film with Loretta Young as the heroine, Don Ameche as Alessandro, and John Carradine as Alessandro's murderer.
Jackson's novel, spurring this flurry of activity across American drama, film, and literature had thus entirely unexpectedly become a part of a burgeoning cultural tourism industry that brought thousands of people to California seeking Ramona.
Although Helen Hunt Jackson did not have any direct connections to Maine, there are nonetheless two incidental ones that bear mentioning. She admitted that one of her literary inspirations was Harriet Beecher Stowe's 1852 two-volume anti-slavery novel, Uncle Tom's Cabin. In 1850 Stowe's husband accepted a teaching position at Bowdoin College in Brunswick and it was there she wrote her famed novel. It was enormously successful, even more so than Ramona would be, selling ten thousand copies in its first week and three hundred thousand in the first year. In Great Britain, one and a half million were sold in a single year. In the nineteenth century only the Bible outsold Uncle Tom's Cabin. 
The second Maine connection is a stronger one that came about through one of the state's more famous summer residents: N.C. Wyeth (1882-1945). One of America's most popular illustrators, Wyeth was commissioned by Little, Brown to illustrate a 1939 edition of Ramona. 
The 1930s saw a resurgence of interest in Jackson's novel, beginning with a 1932 edition with illustrations by Idaho-born Herbert Morton Stoops (1888-1948). In the same year another edition was released by the Junior Literary Guild, which was created three years earlier and featured a membership program designed to encourage children to read. In a conscious effort to attract young readers, this edition contained seventy-nine illustrations in all, the most of any before or after. In addition, the third film version of Ramona was released in 1936, a grand production shot in part at the Mesa Grande Indian Reservation in San Diego County, an effort to convey a sense of authenticity to the story that included hiring some of the tribe members to appear in the film. 
Wyeth's 1939 edition contained only four illustrations, likely a sign that including more would in the publisher's eyes not justify the substantial fee Wyeth's services no doubt would have commanded. Nonetheless, this edition was long-lived: it was reprinted at least as late as 1970 with Wyeth's cover illustration on its dust jacket. While various editions with Wyeth's illustrations are available today on websites for rare and out-of-print books, the paintings he made to be photographed and hence reproduced as illustrations in the book have sadly disappeared. 
These many iterations of Helen Hunt Jackson's 1882 novel, Ramona: A Story, reveal the far-reaching impact it had, beyond what Jackson ever could have thought possible, even though it did not have the persuasive impact she hoped it would have on the treatment of the nation's indigenous people. The Farnsworth Art Museum's inclusion of the 1900 Monterey DeLuxe edition in Transforming the Ordinary was, of course, based on its striking cover designed by the immensely talented designer Amy Sacker. At the same time, though, it opens a door into a remarkable chapter in the history of American popular culture. 
For a fuller exploration of the Ramona phenomenon, see Dydia DeLyser, Ramona Memories: Tourism and the Shaping of Southern California (Minneapolis, University of Minnesota Press, 2005).
This "Behind the Scenes" piece is based on an unpublished paper by Farnsworth Chief Curator Michael K. Komanecky, "Picturing Ramona:  Illustrations to Helen Hunt Jackson's Novel of California." Komanecky has published and lectured on various topics on the art of the American West. 
« Previous Post | Visual Thinking Strategies
Teaching Artist Profile: Cynthia Motian McGuirl | Next Post »