On Thursday, April 22, 2021, Earth Day, the Farnsworth will feature poems by Maine writers exploring praise of nature, the psychological and emotional connections with nature and the environment, and poems of warning in the light of the climate crisis. Offered on a rotating basis throughout the day, each poem is paired with artwork from the Farnsworth collection.
Choices by Lois Anne
I tried one of its apples
but the old tree had been left
wild for too long
this evening a doe and her fawn
linger
finding delicacies
among the soft green-skinned fruit
I watch
hungry yet
smiling
Image link: https://collection.farnsworthmuseum.org/objects/2889
Paul Caponigro, Apple Orchard, Cushing, Maine, 1992, Silver gelatin print, Museum Purchase, 1998
Storm by Marjorie Arnett
A dead calm afternoon. Silence overflows
with desire. A tiny leaf quivers. One brushes
another, warning of a breeze that conjures a storm.
Clouds roll in, pile up like sea foam building
on a shore. The air darkens, threatens as clouds
form an armada advancing on a plane of air.
Water drenches as if poured from buckets
ripping leaves off trees. Jags of lightning
stage a strange wild unholy light as the
world kneels down in disbelief.
The deluge continues then trails off. The low
riding afternoon sun filters onto land promising
pale moon fragments to come.
by Marjorie Arnett
Sean Cavanaugh, Layers in a Storm, 2001, Oil on canvas, Gift of Mr. and Mrs. Stephen Pace, 2003.19
Image link: https://collection.farnsworthmuseum.org/objects/4271
Seven Boys in a Dory
after Winslow Homer, 1873
by Carol Willette Bachofner
They row back and forth
all day, dipping their feet and boasting
of what they'll do when they are grown.
Too young just yet for work at sea,
they harbor plans for money
in the bank, their own ships
to sail away on the tide,
then they row back in
for Mama's cornbread, their fill
of chowder, and tales their daddies tell
about life away from shore.
For now they row back and forth,
waiting for the men they're bound to be,
men of earth and of sea.
Winslow Homer, Seven Boys in a Dory, 1873; watercolor on paper, anonymous gift, 1999
Image from the collection: https://collection.farnsworthmuseum.org/objects/99.22
Grace by Laura Bonazzoli
Across the field this morning,
shoots of blue toad flax
bend their slender necks in the wind.
In the vernal pool alongside the road,
leopard frogs venture toward the sun.
The air is purpled with birch pollen squandered
on the chance of encountering
some unimagined flower.
Last winter
all my endeavors died with you.
The snow came—welcome—
it muffled the road.
But now Grace shimmers
in the pertinacious flax,
the faces of the frogs,
the birches' indiscriminate dust,
as if it had been always
our invisible companion,
watching over our deep sleep
and whispering us to light.
Originally published in Tiny Seed Literary Journal.
Image link: https://collection.farnsworthmuseum.org/objects/2336
Anson Cross, Basin No. 2, Ashland, Massachusetts, Oil on canvas, 64.1332
This Our Blackened Land by John Paul Caponigro
Is this the fate of all you have created?
What once was simple, straight, whole, and clean,
now unedged, roughened, worn,
cracked, split, splintered, pitted,
base burnt beyond recognition,
as if abstraction would save us from the details of our damnations.
By our own eruptions, one after another after another,
everything falls.
Coming apart at the seams, the chain is breaking
and the broken break more and more and others.
So many collisions with destinies of our own making,
that we never wrote and still refuse to speak but perpetuate nonetheless.
Subjugated and subducted and subsumed,
unselved and reselved, unselved and reselved, unselved and reselved,
you'd think for all our inward turnings there'd be an equal number of uplifts
or an eventual implosion.
Not flawless preeminent exemplary,
your unresolved imperfections are our prophecies.
Ruin came before us, ruin birthed us, ruin is in us, and ruin will soon take us away
and ruin so much else with it.
There's so much we could have spared so many.
Sand and dust, sand and dust, sand and dust,
until our perfect form is found
or nothing is left.
Plan no plan unplan architect of shadows.
Dissemble not your fingers groping darkness in darkness.
Take it all apart.
Assemble, disassemble, reassemble and remake us,
the inner is the outer,
again and again and again, as many times as necessary.
Through our destructions, construct a new fate for one are all and if vision's unclear or worse there is no vision, find us in our reconstruction.
Image link: https://collection.farnsworthmuseum.org/objects/4759
Louise Nevelson, Untitled (Landscape), 1954, Painted wood, Gift of Hilton and Esta Kramer, 2006.7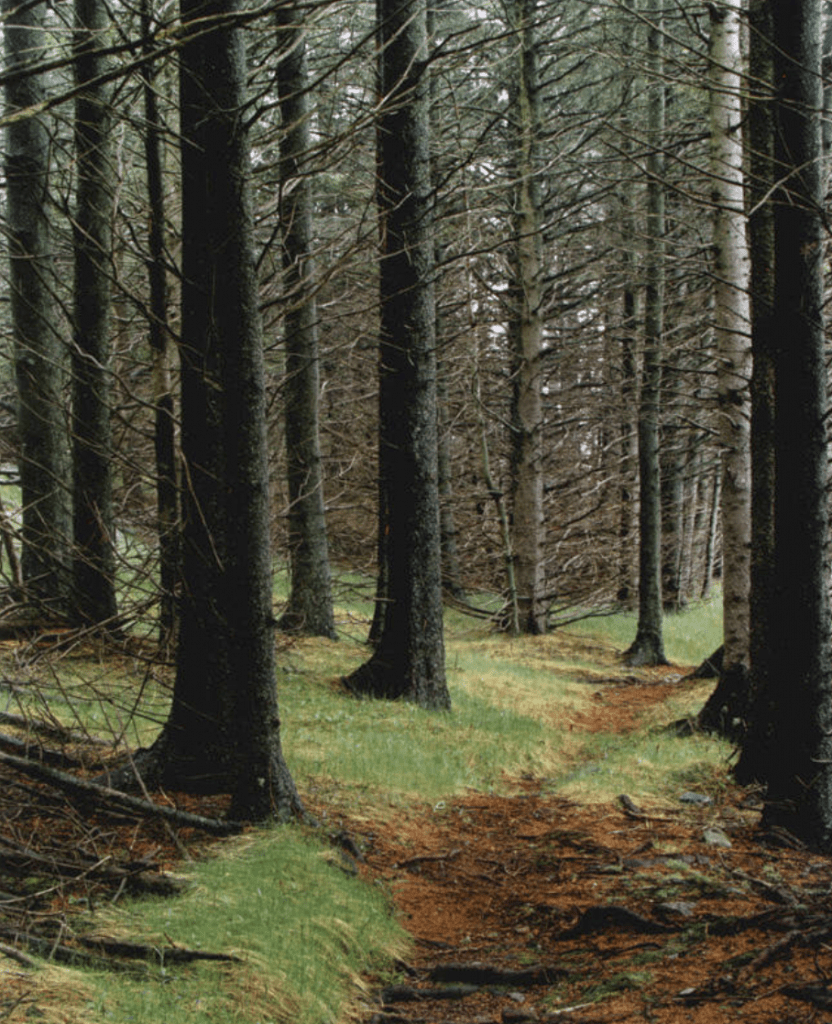 Imaginary Journey By Judith Perry Carpenter
Imagine you're taking a walk…
You come to a wood.
What is it like, your wood?
What kind of trees?
Look. There's a path.
Describe the path.
Now meander down it….
Tell me. What do you see?
Wild flowers?
Fallen branches?
Do you hear any birds?
Wind in the trees?
What's the light like?
As you walk, how do you feel?
Now what do you do?
Stop to rest
and look around?
Keep walking deeper,
deeper into the wood?
Or do you turn back?
Why?
Let's say this imaginary journey
is a metaphor.
What does it reveal about your life?
Image link: https://collection.farnsworthmuseum.org/objects/6293
Eliot Porter, Path in Wood, Great Spruce Head Island, 1981, Dye transfer print, Museum Purchase with support from Friends of the Farnsworth Collection, 2017.18.2
Name the Sky by Jeff Dubin
Why do we each live
the myths of earth and water
of beauty and strength, of love,
a constellation of stars?
Why does it seem so long ago
we cared so much to name the sky?

Why are the gifts of gods
Forgotten?
Image from the collection: https://collection.farnsworthmuseum.org/objects/3579
Paul Manship, Europa and the Bull, 1924, Bronze on marble, Museum Purchase, 1945.443
CONSCIOUS OBJECTOR by Kathleen Ellis
Beside the interstate, the mountain made of trash
is not an ancient monolith
nor aromatic.

The yellow dozers crawling along its slopes
push mounds of tires and mattresses
into solid waste.

Citizens were warned of making a mountain
out of a molehill. The stench remains.
No Katahdin

tempting climbers to its heights, no eagles
screeching from the summit —
only gulls, gulls, gulls.

There is no new mountain to speak of,
even though this hill's become
the jest of our existence.

Yet the argument is geologic, not political.
All the old mountains are eroding.
The young ones

are ungrammatical and have nothing yet
to say. And that stench we smell?
That's just our fuming,

the odor of detritus
slipping underground.

Image from the collection: https://collection.farnsworthmuseum.org/objects/4726
Rudy Burckhardt, Queens, NY, 1940, Gelatin silver print, Gift of the Alex Katz Foundation, 2006
Eggplant and Osprey by Ellen Goldsmith
I wake realizing I have no plans.
How can I use up this day? Then
I remember that I might have cancer
and toss out the words use up.

Phone call after phone call.
The same story over and over.
At first, a release, then a bore.

I peel the eggplant, arrange it in the colander,
salt it to remove the bitterness.
When I fry it, I'll try to control
the flame to prevent oil from splattering.

In so many poems an observation
of nature illuminates a feeling,
suggests a way to reframe thoughts and actions,

like the osprey that perches in the white pine
at high tide, sometimes finding fish,
sometimes not, and still, returning each day.

This is the kind of guide I'm searching for.
Salt to remove bitterness.
A way to contain the mess.
Image from the collection: https://collection.farnsworthmuseum.org/objects/2080

Will Barnet, Woman and Tall Trees, 1977, Oil on canvas, Gift of Will and Elena Barnet, 1991.4
Benevolence by Judy Kaber
after October #13 by Dennis Pinette
The path is not the sound we hear
when we leap the ditch,
not the odor of mud
that breaks across our face,
not fallen trees,
nor orange brush.
The path is not this spill
of doing and undoing, not the healing
we seek in this amber land, a blessing
of plenty.
The path is not the shine
we feel when we fall
into another's arms,
not forgiveness nor
light.
These bare branches
do not hold the same solid warmth we feel
under rumpled sheets.
These limbs do not catch and hold
the rain.
Still, they
carry the price of everything.

Steam rises on a pond in the distance.
The sun tears open a way for us.
Image link: https://collection.farnsworthmuseum.org/objects/4466
Dennis Pinette, October #13, 2001, Oil on canvas, Gift of John and Maggie Foskett, 2005
Island Weather
A Haiku Sequence – by Kristen Lindquist
island sunrise
a light already on
in someone's kitchen
shore trail
walking into
the surf's roar
morning fog
whatever I imagine
is out there
fall as a verb
crickets chanting
within the gale
offshore breeze
the exhalations of seals
chasing mackerel
bleak sky
a soaring gull catches
no light
surf spray
a cabbage white flutters
along the shoreline
afternoon rain
porpoises slipping
past the jetty
island weather
intermittent showers
of spruce needles
storm surge
the calls of a plover
diminish
autumn twilight
the lighthouse beacon turns on
the dark
a dark and stormy night
sharing our stories
of climate change

Publication Credits: "island sunrise," Modern Haiku 52:1; "afternoon rain," Contemporary Haibun Online 15:4; "storm surge," hedgerow Issue 133
Image from the collection: https://collection.farnsworthmuseum.org/objects/180
George Bellows, Sea in Fog, 1913, Oil on plywood panel, Museum purchase, 1945.568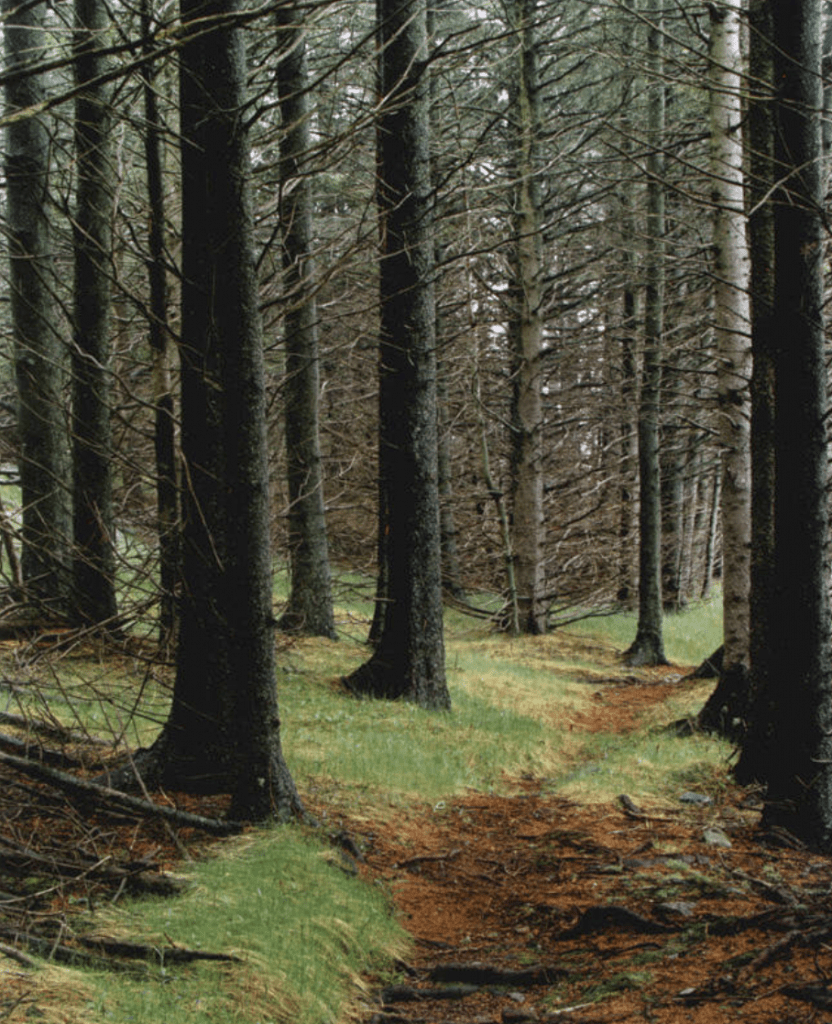 Small Green Grass Snake
(Great Spruce Head Island, Maine) by Carl Little
Slithers through the grass, although
that verb doesn't do its movements justice—
maybe glide or ripple or shape-shift,
so delicate, thin, moving up the path
ahead of our footsteps.
God or someone saw the shape in the grass
and called it green grass snake, an easy
ID compared to, say, Bactrian camel
or nudibranch or ocelot, all part
of Paradise, which makes me think
of the poor snakes of St. Croix
enjoying reign of a virgin island
looking up one day to find a mongoose
in their path, which proceeds to rip them
skin from skin, brought in
to clean up Eden, a Rikki-Tikki-Tavi
nightmare for the serpent crew,
a kind of injustice played out by man
playing god, and the ghosts of those snakes
rattle the dry corn shakes while here
on this island a slim slider of a light green hue
that wouldn't know a mongoose from a mole hill
heads off to the left in search of edibles
in the northern kingdom of Great Spruce
where no one holds dominion over nothing.
Image from the collection: https://collection.farnsworthmuseum.org/objects/6293
Eliot Porter, Path in Wood, Great Spruce Head Island, Maine, 1981 from "In Wildness" Portfolio. Dye transfer print, 1981, 1985
Rufous-sided Towhee by Carolyn Locke
One morning she woke with a bird in her belly,
felt its flutterings, saw clearly the sooty black
chest, head, and back, ivory spots on the wings,
luminous red-brown sides, startling white stomach.
How she knew it was injured, she couldn't say,
nor how it had settled inside her. Certainly
it was not up to her to care for it. She refused
to name it, went on with her day as if
it wasn't there. She hoped it would disappear
as magically as it had arrived.
But with twilight's first flicker
came a plaintive song, weaving
through the tangled thicket of her body,
rippling in her bloodstream, and she knew
it must belong to her. She would be obliged
to hold it through the wingless night.
Previously published in The Riddle of Yes: Poems by Carolyn Locke, Maine Authors Publishing, 2019.
Image link: https://collection.farnsworthmuseum.org/objects/4697
Hunt Slonem, Witness, 1991, Oil on canvas, Gift of the Alex Katz Foundation, 2006.1
Ocean (eustacy, ocean levels rising) by Claire Millikin , Owls Head, Maine
I used to run races against a kid named Ocean
and his brother named River.
They were the fastest but I always came in third.
These hard nights of the plague winter I dream of ocean, the Atlantic, its folding tributaries.
If I go back I go back too deep, eustacy, water levels rising as the ocean warms.
Of unhealed rooms
at the back of the ocean house, the terrible dream of transfiguration, rising levels of the sea.
Ocean had dark skin, mine was pale.
Before we were born, the South
used to separate kids like us into different races, with River,
his lighter skinned brother, set between. No man's land
riparian territory, littoral zone
The ocean runs counter current to human clocks
taking its own steps beneath the moon's drag and arc,
rivers meet it at deltas.
But the brothers were competitors. They ran it hard to win.
And I in their shadow, daughter, almost strong enough, too thin.
The place of thinking is the ocean, its way beyond
breakers, deep sand, loam
a maritime forest
breathes still.
Breathing,
Ahead of me ran Ocean and River,
their shadows deepening as the racing season ended near solstice.
I ran in the line of their breaths, their flesh.
Ocean's deepening will carry the earth.
Image from the collection: https://collection.farnsworthmuseum.org/objects/2512
James Linehan, Tangaroa (The Vast Ocean), 1988, Acrylic on paper, Gift of the Artist in cooperation with Frick Gallery Belfast, Maine, courtesy of Sherry French Gallery, New York, New York
CHILDREN ON THE SHORE by Wendy Satin Rapaport, 2020
What shall we tell the children?
They don't know…they play
but with measured abandon
or is that in the eyes of this beholder?
I see the dark sky
and I don't want to warn them –
nothing should interfere with freedom
to explore and feel all's right with the world.
But I do want to shake their parents
and government and businesses
and the very apathetic and the
scientifically delusional deniers.
Innocence, delightful.
Ignorance, inexcusable.
Purposeful violation –
criminal…
What shall we tell the children?
Enjoy, we have your backs…
Clean your room, of course
and please, honor the earth.
Image link: https://collection.farnsworthmuseum.org/objects/391
Waldo Peirce, Children on the Shore, 1939, Oil on canvas, Museum purchase, 1945
T r e m o l o
by Martin Steingesser
Copyright © 2021 by Martin Steingesser

1.
Stand still. Wait,
under bowed limbs
of a great father pine. Forget perfect knowing—
Watch for the slow lift
and fall of branches,
a tremolo in pine needles, how limbs sign,
inviting air, wind
for voice.
I don't expect you to believe this elder conifer
alongside a two-lane blacktop, rush after rush of cars
speeding past,
would speak.
Sorry,
I hear myself
softer than a whisper address the tree,
I do that,
meaning
how I drive by
or walk forest paths
without a word
or thought for them,
and it comes to me, for all our engines
and speed
I too am rooted
here
in an inborn longing
to flower
not unlike a cloud
of dogwood
or apple blossoms.
2.
Walking out into new fields
through lush, high grass,
scattering
a flash of blackbirds,
suddenly
there is wind—
the cicadas
lift their bows,
there is a low moan
as from a cello,
a clear
wild cry
beyond the woods.
Whose hands, what fingers
travel the keys,
lightly skipping
slender branch
to branch, what breath
among leaves,
reeds of grasses?
Image link: https://collection.farnsworthmuseum.org/objects/342
Leo John Meissner, Cathedral Woods, 1967, Oil on academy board, Gift of Mr. and Mrs. Leo J. Meissner, 1967
Why We Need the Sea by Ellen M. Taylor
Ekphrastic with Lifting Gale, by Frederick Waugh
"I must go down to the sea again," my father would recite in his Boston Latin School voice.
Salt water to him was necessary as air, particularly on days when there was none, when sails
flopped like bored laundry on a sagging line. "And all I ask is a windy day with the white
clouds flying, /and the flung spray and the blown spume and the seagulls crying."
What is it about the sea, that draws us to her drama? We see the danger
in her undertow, the thrashing waves, crushed stones and worn ledge –
but above, the sun plays resplendent. The dazzling swells below and the clouds above
are siblings – one heaven, one earth, and we are blessed to witness their greeting.
Painters know this lure, the love between land and sea, beauty and her attendant,
danger. If we must have both (and we must), brush the headland with smokey purple,
dress the stones with lichen, chisel the bedrock with burnt sienna, umber.
Both sea and sky need earth's pigments, cobalt, and lapis lazuli for their splendor.
Land and horizon deepen in relief against the ocean's bright sheen which isn't white at all,
but all the colors adjacent. Water needs stone as sailors need land and we're reminded,
Again, that darkness needs its corollary, Light.
Image from the collection: https://collection.farnsworthmuseum.org/objects/2743
Frederick Waugh, Lifting Gale, circa 1910, Oil on masonite, Bequest of Mrs. Elizabeth B. Noyce, 1997.3.50
Green by Elizabeth Tibbetts
Day upon day of rain. Every rivulet and trickle,
every stream comes into its own. Water falls everywhere.
And now we come to green when the wet fields
suck up the sun and grow lush as the pelts of healthy animals.
In ditch and bog, skunk cabbages unfurl. Willows phosphoresce.
Wood frogs talk.
One long day after another spills into each waiting dusk.
Leaves become the size of squirrel ears. Now fish begin to bite.
Everything sprouts on the tip of the tongue.
Image link: https://collection.farnsworthmuseum.org/objects/2129
Lois Dodd, The Painted Room, 1982, Oil on linen, Gift of the American Academy and Institute of Arts and Letters, New York: Hassam, Speicher, Betts and Symons Funds, 1991.7
Another One From A Winter Spent in Self Hypnosis, by Kathy Weinberg
Autumnal wallpaper inside
an imagined house peels from plaster.
Out in the back fifty, the forest.
Inside the forest; foxes, wild turkeys,
small deer and large moose,
squirrels red and gray, the chipmunks,
mice, rats and mouse-rats.
Somewhere a stream
and during drought,
a river of rocks.
Somewhere a better world.
Sometimes this is that
better world.
Image from the collection: https://collection.farnsworthmuseum.org/objects/2646
Karl Schrag, The Green Night, 1982, Oil on canvas, Gift of Mrs. Elizabeth B. Noyce, 1996
In the Meadow by by Sandy Weisman
A faded red rubber ball of an old bug
crawls among milkweed, nettles, vetch,
and clover in my meadow.
I breathe in the potent smell of dying
fern, Queen Anne's Lace – its spokes
collapsed into fragile cages,
the sedge, brown and crisp as a broom.
I love the way the old bug dodders
among diving goldfinches and snakes
without harm, for how it lives
with disparate companions, how it moves
over granite rocks and navigates
the depressions.
Image link: https://collection.farnsworthmuseum.org/objects/6294
Elliot Porter, Hawkweed in Meadow, Great Spruce Head Island, Maine, 1968, 2017.18.3
Transformation of Energy by Meg Weston
The pendulum swings back and forth
as if the highs and lows matter in the end
the Pleiades and planets pace across the sky
the seasons cycle through
the days swing into weeks then years
and time ticks by…
words from Robert Frost
inscribed on her grave:
I rode up on one till the bubble burst
words cannot capture the unmitigated
passion of our too-short lives—
each distinct day becomes
a terse abstraction in black and white
Time without us is simply cyclical—
energy that cannot be destroyed—
not a linear progression
to a foregone conclusion.
Image link: https://collection.farnsworthmuseum.org/objects/2330
Berenice Abbott, Transformation of Energy, ca. 1958, Gelatin silver print, Gift of Mr. Ronald A. Kurtz, 1986.27.6
« Previous Post | Artist Trivia: Eric Hopkins
Artist Trivia: Gertrude Horsford Fiske | Next Post »