When viewing art, allow a few minutes just to observe. Careful observation allows time to use all the senses, become engaged, and notice things missed at first glance. Make a list of everything observed: objects, colors, shapes, patterns, as well as the feelings that the work conveys to you.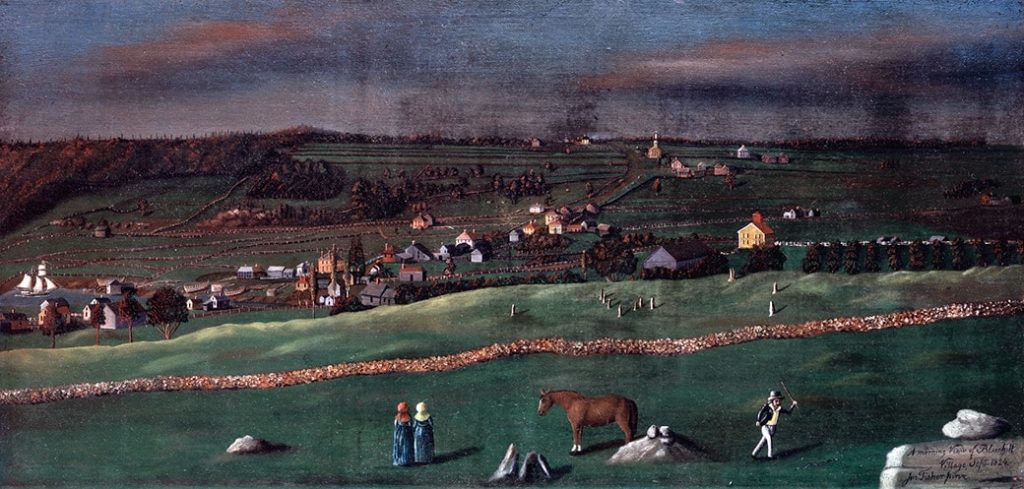 WORK OF ART
Jonathan Fisher, A Morning View of Blue Hill, 1824, Museum purchase, 1965.1465.134
Guiding Questions:
What immediately jumps out at you when you first look at this work? 
What took more time to observe?
What are you noticing in the foreground (bottom of work)? Middle ground? Background (at top of work)? 
What do you think the artist wants us to know about this place?
Suggested activities:
Write a description of this painting for someone who has never seen it. Pay attention to the colors and details that the artist depicts.
Write a letter home from the perspective of one of the figures. What do you imagine about the village? How is the land to be used? What is happening in town?
Sketch a place you know well, like your school, home, or bedroom. What details will you include or leave out?
Share your creations with us by uploading your finished work here: 
For more information on this artwork visit this page on the Farnsworth Art Museum website:
https://collection.farnsworthmuseum.org/objects/3666
Jonathan Fisher, A Morning View of Blue Hill, 1824, Museum purchase, 1965.1465.134
« Previous Post | Sylvia Plimack Mangold, Floor with Light at Noon
Artist Trivia: Beverly Hallam | Next Post »