Explore the home of the Farnsworth's benefactor Lucy Copeland Farnsworth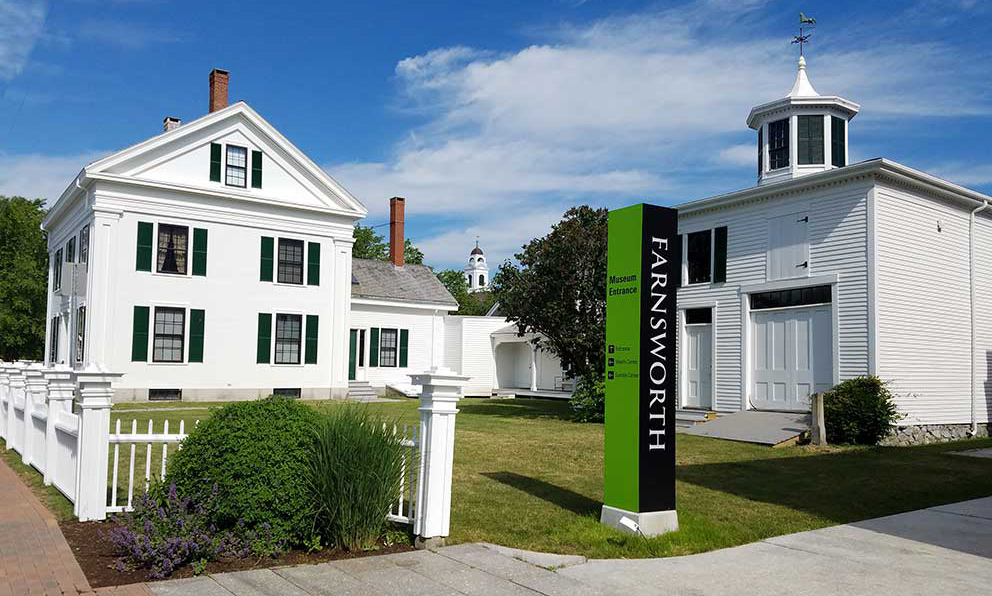 ---
In 1849-50, the Farnsworth Homestead, a large Greek Revival-style home, was constructed on Elm Street in Rockland, Maine. It is appointed in high Victorian style and considered one of the first houses in the city to have hot and cold running water.
In 1935, Lucy Copeland Farnsworth (1838-1935) passed away at age 96. In her will, she directs the construction of a library and art museum in memory of her father and the opening of her family home to the public as part of a new museum campus in Rockland.
In 1973, the Farnsworth Homestead was named to the National Register of Historic Places.
Homestead Tours
Homestead tours are on Thursdays and Fridays, at 10:30 a.m. and 11:30 a.m. from July to September
Prices:
Homestead only: $12
Members: $10
Add on price to museum admissions: $10
Children 6 – 16: $5
The Farnsworth Homestead is not wheelchair accessible.
All tours will meet in the Farnsworth Homestead green directly in front of the carriage barn at the ticketed tour time.
There are steps to get into the carriage barn and some high thresholds in the house, as well as narrow doorways and pathways through the house interior due to its age. We welcome all visitors. Please note that the 45 minute tour requires standing while the tour is in process due to the fragile nature of the collections in the house, and there is no seating or restrooms in the Farnsworth Homestead.
Please note: When reserving Homestead tickets, The tour calendar will default to the next available tour. To purchase a homestead tour ticket for a different date or time, please first click on "other dates", then click on "other times".
BUY HOMESTEAD TICKETS
Explore the Farnsworth Homestead Virtually in 3D
Please click here or on the image below.