Andrew Wyeth's Snow Hill: From Humor to Hell
May 9, 2019
@
2:00 pm
–
3:00 pm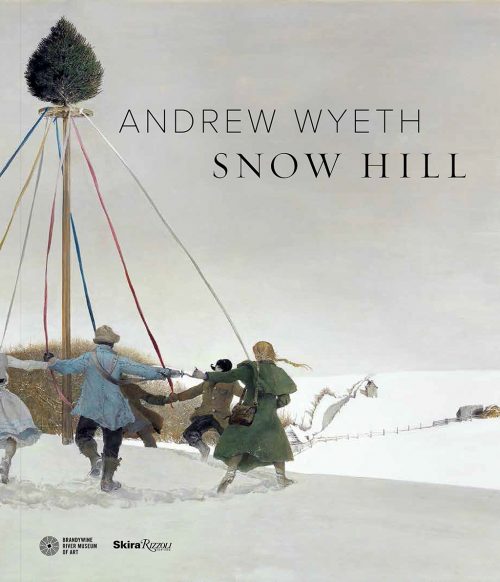 Talk and book signing by James H. Duff
Snow Hill may well be Andrew Wyeth's most personal, complex, thoughtful, and difficult conception. This beautiful, popular and very enigmatic 1989 tempera painting embodies a huge portion of his life and art. It is a dramatic depiction of Chadds Ford, Pennsylvania, residents who provided him with inspiration over decades and who are seen against the snowy background of the Kuerner Farm, a place of great significance to the artist. This lecture is based on James H. Duff's book about the painting and invites an expansive interpretation of the work, including wide-ranging art historical influences on this major American artist.
James H. Duff was director of the Brandywine River Museum of Art in Chadds Ford, Pennsylvania, beginning in 1973 and also executive director of the museum's parent organization, the Brandywine Conservancy, from 1976 until his retirement in 2011. He has published many articles related to the museum profession and also articles and books on aspects of American art. Duff has organized a variety of exhibitions, including An American Vision: Three Generations of Wyeth Art, which traveled to nine museums in five countries. He lectures on American art history, especially as it relates to the Brandywine Valley. He was for nine years a trustee and is a past president of the Association of Art Museum Directors and was chair of its committee that prepared the 2001 edition of the publication on art museum standards, Professional Practices in Art Museums. Duff was a member of the National Museum Services board for nine years, a trustee of the American Alliance of Museums, and a past president of the Mid-Atlantic Association of Museums and in 1992 received that organization's Katherine Coffey Award. He has served on boards of various foundations and cultural institutions and oversaw the expansion and renovation of the Brandywine Conservancy's campus and various facilities, including museum building expansions in 1984 and 2004. Duff now lives in Belfast, Maine, with his wife Sally. They have two daughters, Abigail Gilchrist and Jessiva Tolliver, and four grandchildren.
The Brandywine River Museum of Art, which opened in 1971, collects, preserves, exhibits, and interprets American art with primary emphasis on the art of the Brandywine region, American illustration, and still life. It is well-known for its devotion to the art of the Wyeth family.
Cost: $15; $10 for members which includes gallery admission