Join Us in Celebrating The Farnsworth 75th Anniversary Gala
Welcome to the Farnsworth!
Founded as a bequest of Lucy Copeland Farnsworth, the Farnsworth Museum of Art opened its doors in 1948. Today, the Farnsworth is recognized as one of the best American art collections in the nation and is home to more than 15,000 works by 1,300 artists and two historic sites – the Farnsworth Homestead and the Olson House.
Museum Admission
| | |
| --- | --- |
| Members | Free |
| Adults | $20 |
| Seniors 65 and over | $18 |
| Students 17 and older | $10 |
| Children 16 and under | Free |
| Rockland Residents | Free |
Highlight Tours
Docents lead conversational gallery walk-throughs featuring favorite artworks from the collection in celebration of our 75th anniversary on Thursdays and Fridays at 11 a.m., and on Saturdays at 11 a.m. and at 1 p.m. Tours begin in the lobby and last about 45 minutes. Highlight tours are complimentary with admission, but space may be limited. Please ask to be included at the admission desk and if there is a way we can make your visit more accessible.
BUY TICKETS
The Farnsworth Homestead is closed for the season.
The Olson House is closed to the public.
The Olson House is closed to public tours this season due to ongoing restoration work inside the house. While the house is closed during preservation activities, visitors are welcome to take a self-guided walking tour of the Olson House grounds.
Please note: The museum is wheelchair accessible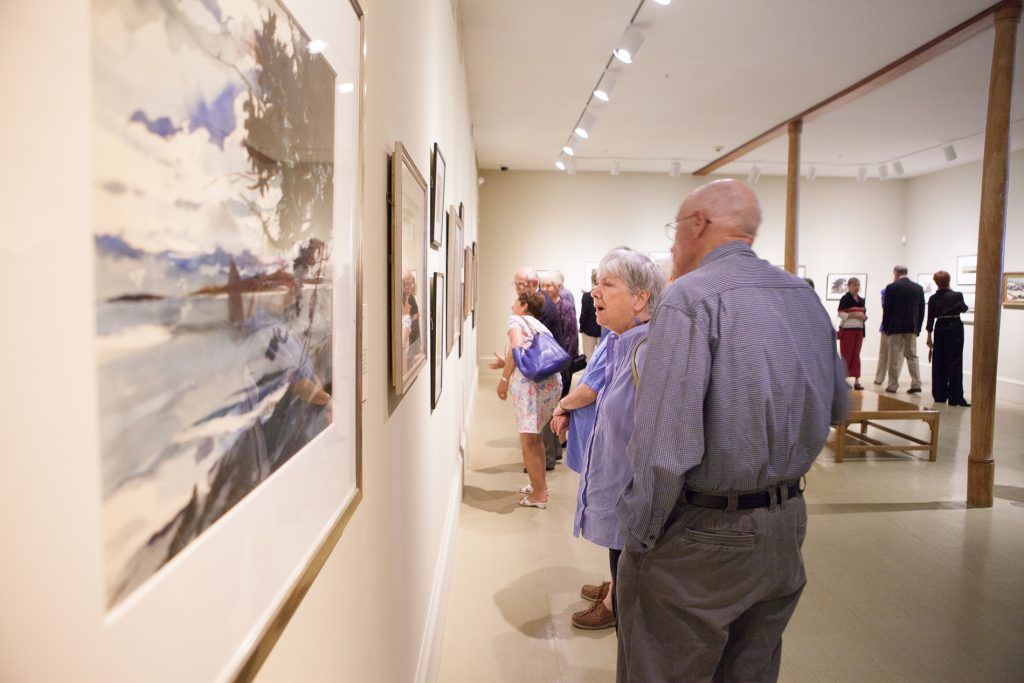 Museum Hours
Please note, the Museum and Museum Store will be closed on January 1-3, 2024 for gallery reinstallations. We will reopen on January 4, 2024
October 15 – December 31
Wednesday through Monday, 10 a.m.-4 p.m.
Closed Tuesdays
January 1 – April 30, 2024
Wednesday through Sunday, 10 a.m.-4 p.m.
Closed Mondays and Tuesdays
The Museum Store Hours
May 27 – December 31
Open 7 Days, 10 a.m.-5 p.m.
January 1 – April 30, 2024
Wednesday through Monday, 10 a.m.-4 p.m.
Closed Tuesdays
The Museum is closed on:
New Year's Day (January 1)
Thanksgiving Day
December 25
The Museum closes early on November 22, December 24 and December 31, at 2 pm
Getting Here
The Farnsworth Art Museum is located in Rockland, Maine, on Maine's midcoast and is four hours northeast of Boston, less than two hours north of Portland, one and a half hours south of Bangor, and six hours southeast of Montreal.

GOOGLE MAPS
Parking
The Farnsworth offers free parking to visitors in its lot on Museum Street, and also in its lot behind the Wyeth Center, off of Grace Street, between Union and High Streets. There is also a free, municipal parking lot between Winter Street and Tillson Avenue. On-street parking is available in Rockland. In most cases, there is a 2-hour limit. Please check the parking signs carefully!
Be Our Guest
Kids Welcome!
We welcome children of all ages. Children under 17 receive free admission. A parent or guardian must accompany children under 13.
Thank You for Not Touching!
Please keep a safe distance as even the lightest touch can damage a work of art.
Rockland Residents
Residents receive free admission to the museum.
Admission
Your admission sticker is good for the whole day!
Food and Drink
No food or drinks in the museum galleries, please!
Need a Wheelchair?
Ask a guard or front desk staff
You're on Camera!
Visitors to the Museum may be photographed, videotaped, or otherwise recorded. By attending, you grant the Museum permission to use photographs and/or audiovisual recordings in which you appear for archival, documentary, publicity, advertising, or other purposes.
Parents
Parents, please place "baby carriers" on your front. Restrooms have baby changing tables. Complimentary strollers are available.
Coats & Lockers
Lockers use a returnable 25 cents. The front desk has quarters if you need. Please use for large bags and backpacks, umbrellas, etc.
Service Animals
Certified service animals are welcome.
Take Pictures!
Photography is permitted throughout the museum unless designated. Share your images with friends and on social media!
Don't Forget To…
Visit our gift store located at our Main Street entrance next to the Crosman Gallery!
Tours and Group Visits
We welcome your group and invite you to explore the Farnsworth's collection and special exhibitions. For more information or to make a reservation for a group tour, please contact Director of Operations Janice Gates at 207-390-6019 or via email.
Admission for Groups of 10 or More:
$18 per person, with complimentary admission for the driver and group escort. Admission includes the main museum and Wyeth Center (the Wyeth Center opens on June 17).
Group Arrival
Bus drop off and parking is located on Museum or Grace Streets. Groups enter through the Museum Street entrance and check in at the front desk. Please arrive at the museum 15 minutes prior to the designated time of your tour.
Late Arrivals
If your group is running late, please let us know as soon as possible by calling 207-390-6019. Time may be cut from your program due to late arrivals.